Voice & Data Cabling
What is Cabling & Wiring?
Your business depends on having a reliable phone system and Internet connection. But what about the wiring system that plays a key role in whether or not you'll always be up and running?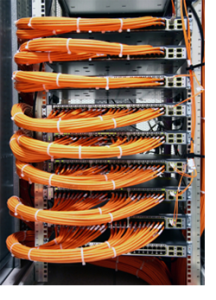 A cabling system should be a long-term investment, so be sure that it is properly designed to avoid future network problems.  By hiring Tricom Systems as your licensed & certified cabling installers,  we'll ensure your cable network is reliable and will meet or exceed your voice and data needs.
Here's how it works — we'll run wires through your walls and ceilings to connect your voice and data connections. The wires are connected to every office and cubicle in your workplace and "terminate" in your telephone closets and server rooms. After setting up your employees, Tricom tests everything to make sure you always have fast and clear network connections.
We'll develop a management system for your wires. This includes careful labeling of each wire so you can locate problems, and installing a rack system that will keep the wires stowed away without getting in anyone's walking path.
What are the different types of cabling?
The cables used in cabling & wiring services are known as "CAT" — cable and telephone.  Generally, there are three standard types of cables to choose from:
CAT5e: Affordable and most common solution for the majority of businesses. Recommended for both voice and data applications
CAT6: More functional wiring than CAT5e, but also more expensive. CAT 6 cables are best if you need to use complex technology, and is the most expandable option.  Also recommended for both voice and data applications
CAT3 (Voice)
COAX (Video)
FIBER OPTIC (Data)
We install network wiring (CAT5 and CAT6) for both voice and data applications. We also install phone wiring (CAT3), 25/50/100/300/600 pair feed cables, Coax cable (Video) and fiber optic cable (Data). Our installation includes: Cables, jacks, terminations, the testing and labeling and complete documentation necessary to properly manage your new voice and data network infrastructure.